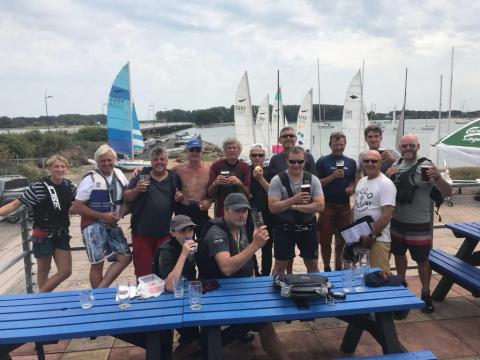 Warm winds and sunshine saw a good turnout for this year's Island Cup with 9 boats starting and finishing including 6 Dart 18s. Conditions were lighter than expected with a shifting NE wind for the seafront and Chichester harbour legs favouring those at the front of the fleet. After a mostly liquid lunch stop at Langstone Sailing Club, and with the wind now blowing from the SW, the fleet squeezed their way through the old railway into Langstone harbour searching for the best wind for the beat home.
Despite having little chance to use their spinnakers the F18/Hurricanes did well with 1st place going to Golden and Howting. Full results are available on the race page.
Thanks to the OOD, support boat crews and others for all your efforts, and to Langstone Sailing Club for their hospitality.