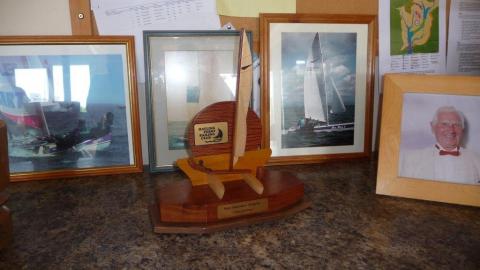 The inaugural Roy Stickley Trophy Race in memory of Roy, a long time club member who sadly passed away last year, took place on 6th August with a great turnout and great conditions. Penny has written to thank everyone who made it such a special day: 
I just want to say a huge thank you to everyone who turned up for the Roy
Stickley Trophy Race on 6th August.  Roy's daughter and I were completely
overwhelmed and extremely touched by the amazing response. It was wonderful
to see so many club boats out on the water, and family members who had come
to support, in memory of a truly special and unique soul. It was the perfect
tribute to a man who had contributed to the club in so many ways, loved his
sailing and thoroughly enjoyed his times at HFSC over the many years,
several attempting to play table tennis late in the evening after a few too
many bevvies!! 

I would like to think that he may have had a small hand in ensuring everyone
had a good day by making the weather conditions perfect for both spectators
and sailors alike and no doubt he was out on the water giving you all a run
for your money.

He always knew our club had something special and different to any others
and that has been proved by the turn out for his Trophy Race and the
kindness and support you have all given to me since his passing.