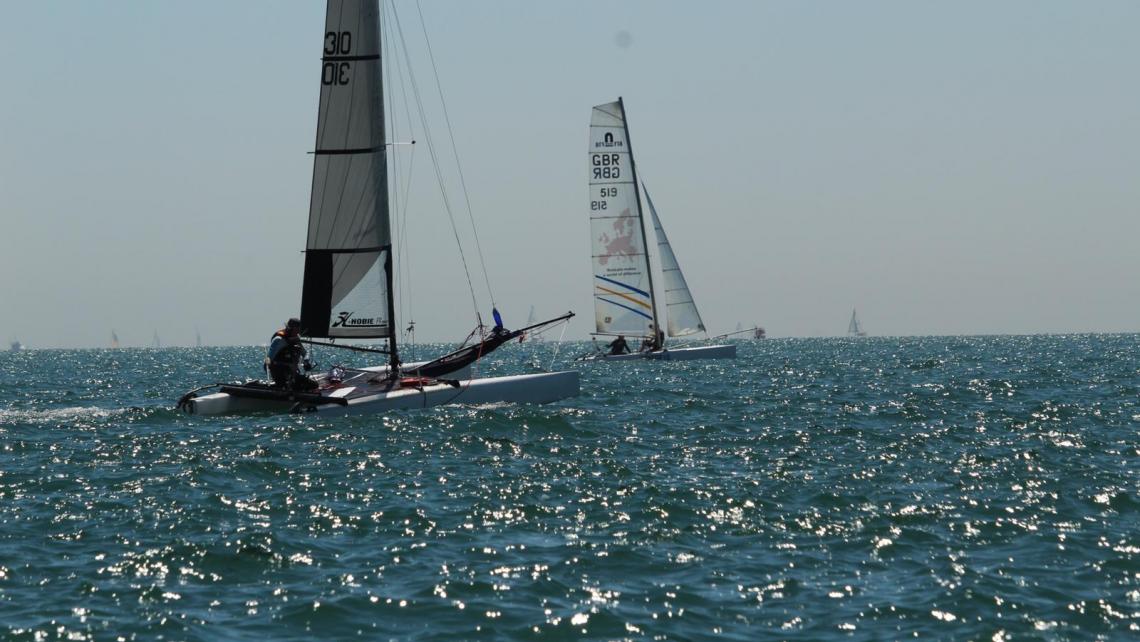 Warm and sunny, a Force 3 southerly breeze, and clear blue seas... what a fine day for a sail! 6 boats out (no surprises in the line-up) and a second attempt at the pursuit race format to put into practice lessons learnt last time out. This time we put the 3 yellow racing marks out to form a classic triangular course off the Eastney shore with the start line between the outfall post and the safety boat to allow for starts to be relatively unhindered by wind-over-tide in the channel (at least that was the plan). 6 boats entered, but only 5 boats sailed the course... Quite what happened to the SL16 of Ian and Clive is not clear but flying the kite in the flat waters of Langstone harbour apparently compensated for an DNS (Did Not Start).
Out on the course the racing was intense with Andy and Mark on their Nacra F18 making the most of an early error by Clive on his FX One to move up a place rounding the 3rd mark only to lose it again and fall even further behind by clipping the same mark 1 or 2 laps later. Steve and Jennie on a Dart 18 tried in vain to hold their starting position but the conditions and course favoured more sail and higher pointing and the SL16 of Richard and Charlie, the FX One, and the F18 all managed to creep past by the time the 90 minutes was up. Adrian and Fen on their Tornado and starting a full 19 mins after the Dart 18, apparently got caught by the tide so had little chance of catching the rest of the fleet. Maybe next time! Richard and Charlie took first place proving once again that the club SL16s, in the right hands, are indeed a force to be reckoned with. 
Many thanks to the Welsh's on the support boat who proved that, with clear instructions, we could lay 3 marks in 30 minutes and run a pursuit race without an OOD on shore 😊.
| Boat | Config | Sail no | Helm | Crew | Start relative to Dart 18 | Position |
| --- | --- | --- | --- | --- | --- | --- |
| SL 16 | C | 788 | Richard | Charlie | 6 mins after | 1 |
| FX One | D | 310 | Clive |   | 9 mins after | 2 |
| F18 | B | 519 | Mark | Andy | 11 mins after | 3 |
| Dart 18 | B | 4696 | Steve | Jennie | reference boat | 4 |
| Tornado | C | 368 | Adrian | Fen | 19 mins after | 5 |
| SL 16 | C | 784 | Ian | Clive | 6 min after | DNS |