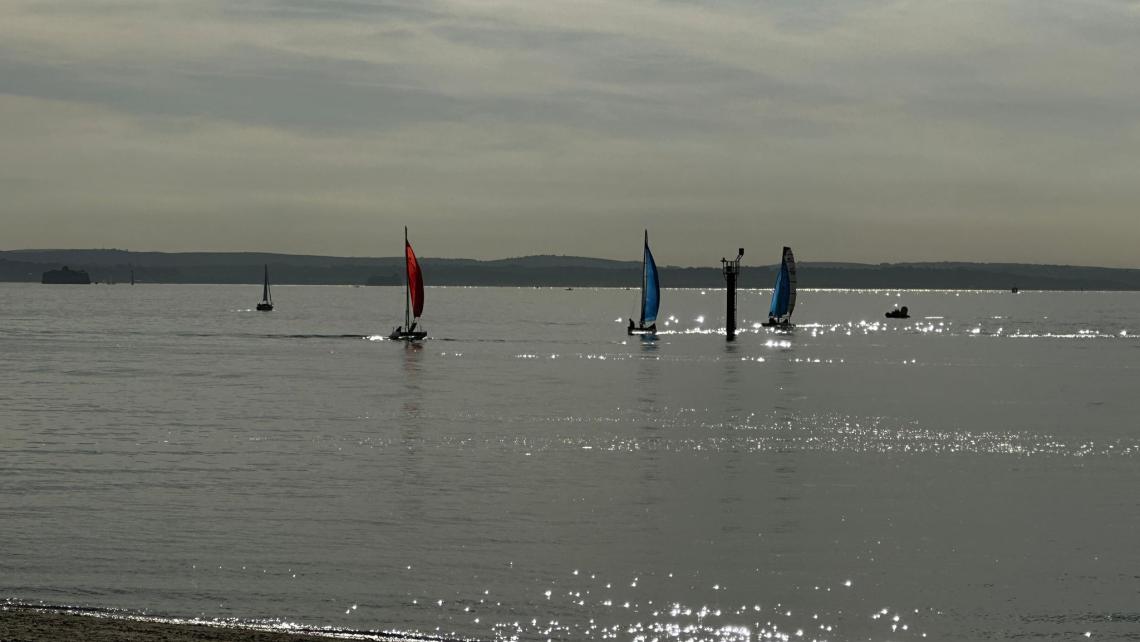 A very unpromising forecast may have put a few people off but 6 boats signed on for some light-wind short course racing on a glorious warm sunny day.
Some patience was required and the wait saw one boat drop out but eventually the first race commenced with a beach start at 13:10. From the club start line, the fleet headed for a triangle - sausage - triangle course around marks expertly laid off Fort Cumberland (and the nudist beach) by Rene and Felicity on the support boat.
What breeze there was came and went but was at least generally consistent in direction, blowing from the South. Despite the lack of wind, Richard and Charlie (F18) completed the full course and back over the club finish line in a little over 34 minutes which was just enough to win on corrected time ahead of Clive and Jennie (FX One) in second place. Did the penalty turn around the windward mark cost them 1st place?
More waiting for breeze saw another boat drop out which left the 4 spinnaker boats start race 2. Again the breeze came and went and an initial turn of pace gave way halfway through the first triangle to more zephyr chasing for the remainder of the race. Again Richard and Charlie were first over the finish line at the hour mark but with the other 2 finishing boats coming in within the next 5 minutes it was Clive and Jennie who took first place on corrected time.
And so at the halfway stage of the Autumn Series, it's one win each for Richard and Clive W with all to play for in race 3 & 4 on 22nd October!
| Class | Config | PN | Helm | Crew | Finishing time | Elapsed time (s) | Corrected time (s) | Position |
| --- | --- | --- | --- | --- | --- | --- | --- | --- |
| Formula 18 | C-2-2T | 678 | Richard G | Charles H | 13:44:30 | 2,070 | 3,053 | 1 |
| Hobie FX One 2-up with jib | C-2-1T | 777 | Clive W | Jennie L | 13:50:16 | 2,416 | 3,109 | 2 |
| Formula 18 | C-2-2T | 678 | Mark T | Andrew C | 13:58:25 | 2,905 | 4,285 | 3 |
| Dart 18 single no jib | A-1-1T | 840 | Ken W | | 14:12:21 | 3,741 | 4,454 | 4 |
| Hobie FX One Cat Boat | D-1-1T | 738 | Justinian T | | 14:11:36 | 3,696 | 5,008 | 5 |
| Class | Config | PN | Helm | Crew | Finishing time | Elapsed time (s) | Corrected time (s) | Position |
| --- | --- | --- | --- | --- | --- | --- | --- | --- |
| Hobie FX One 2-up with jib | C-2-1T | 777 | Clive W | Jennie L | 15:49:47 | 3,887 | 5,003 | 1 |
| Formula 18 | C-2-2T | 678 | Richard G | Charles H | 15:45:17 | 3,617 | 5,335 | 2 |
| Formula 18 | C-2-2T | 678 | Mark T | Andrew C | 15:50:15 | 3,915 | 5,774 | 3 |
| Hobie FX One Cat Boat | D-1-1T | 738 | Justinian T | | | 0 | 0 | DNF |