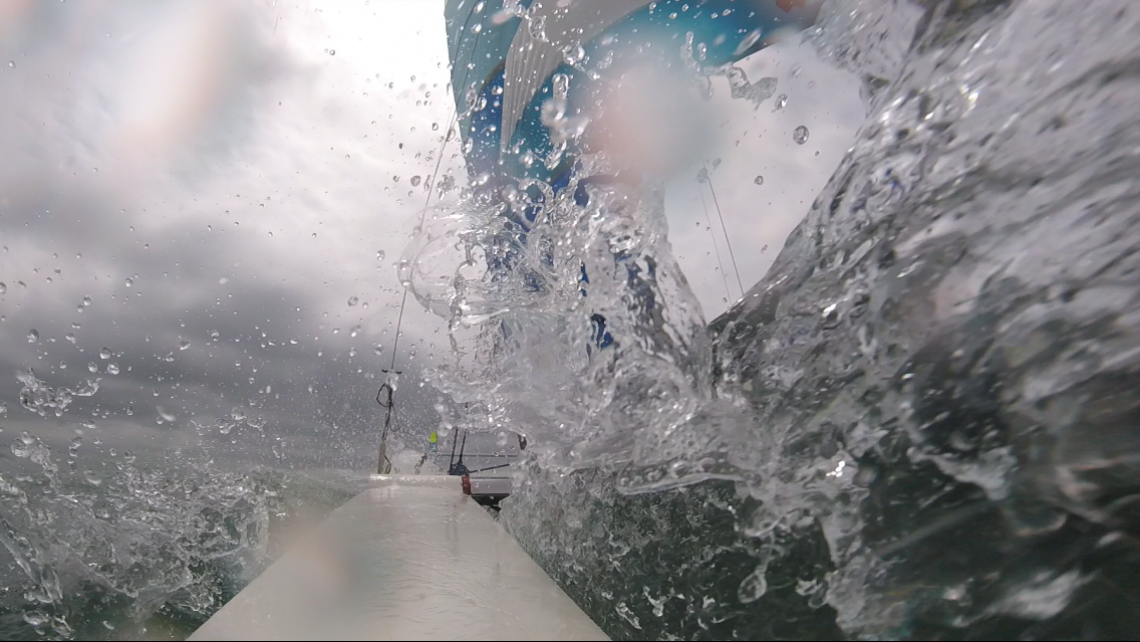 For the 3rd race of the season the forecast NNE F5/6 breeze put some off and left just 2 Dart 18s prepared to race.
A simple short course was agreed:
Beach start
Out to the Roway wreck mark
5 "sausages" between the Wreck and Fairway marks
Club finish line
Andy & Clive were first to the wreck and start of the sausages. Woody & Paul had better speed on the reaches and soon overtook but not enough to build a clear lead. 5 laps of close fast racing ended with Woody fumbling the last tack around the Fairway allowing Andy & Clive to get slightly ahead and lead the final rounding of the Wreck mark. Needing to put in a couple of tacks to get up the channel, the out-going tide again played a key role. Woody having got ahead again, found himself mid-channel in a lull whilst Andy & Clive benefitted from a series of gusts to cross the finishing line in 1st. Woody & Paul came last...
Although the winning margin was 1.30 minutes, there was rarely more than 10 or 20 seconds between the boats right up until the finish. An excellent race!
Here's a link to Paul's Garmin track of the race. Note the spikes in his heart rate for each of the high speed gybes round the wreck!
Many thanks to Chris and Ali on the support boat and Malcolm for doing OOD duties.
Start time: 12.06.00
| Position | Boat | Sail no | Helm / crew | Finishing Time | Code |
| --- | --- | --- | --- | --- | --- |
| 1 | Dart 18 | 2740 | Andy C / Clive W | 13.00.56 | COM |
| 2 | Dart 18 | 7406 | Woody / Paul | 13.02.30 | COM |