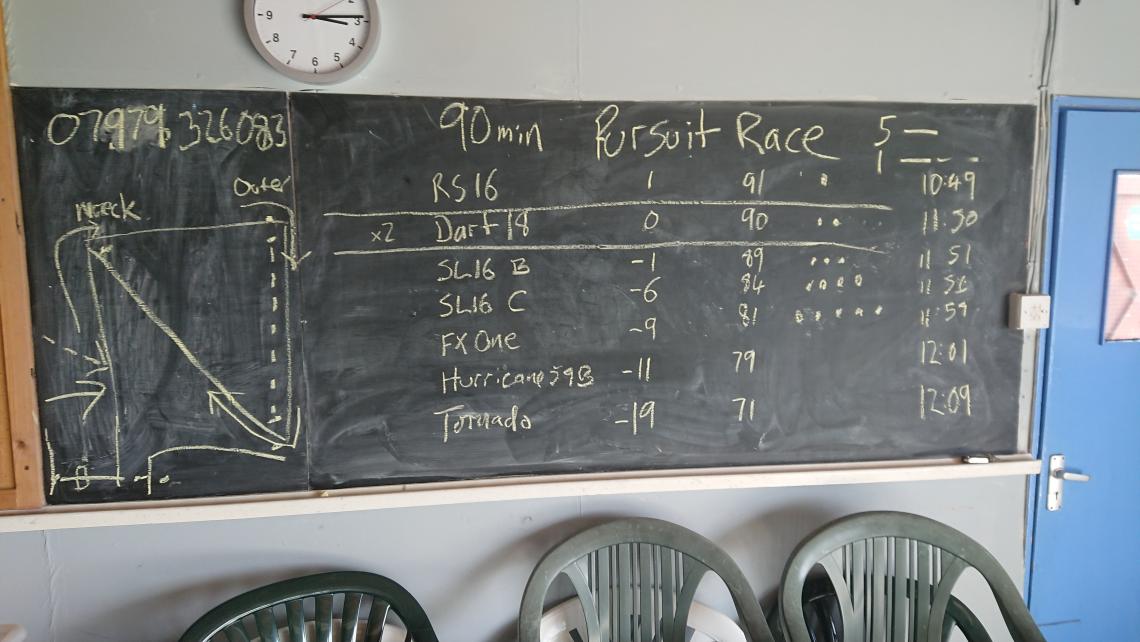 A fine F3 to F4 breeze and sunshine was enjoyed by the 8 boats taking part in the 2nd race of the season on Sunday 30th May, a 90 minute pursuit race around the familiar marks of the Roway Wreck, and the Inner and Outer submarine barrier passages.
Attempting to prove that a pursuit race could be run without a computer and without the OOD on shore manning the start/finish line, it became apparent at the briefing that a bit more thought was needed to ensure an orderly start... all useful feedback. Qudos to Cathy, Mark and Fin on the safety boat for making the best of confused instructions, a delayed start and a failing starter horn and getting the boats off more or less at their allotted start times.
Andy, sailing a Dart 18 solo, managed to sneak out of the Eastney side of the channel (again) and just made the first mark on a single beat. Matt and Dave also on a Dart 18 and starting at the same time closed the gap on some reaches but never quite enough as Andy managed to keep the lead for a full lap before being overhauled just before the second Outer Passage turn by first Richard and Charlie on a club RS 16 and then by Clive on his FX One. Clive soon after moved into and then held first place until the finish after 90 minutes, nearly completing a second lap.
Brian and Jennie starting 11 minutes behind the Darts on a Hurricane 5.9 without the spinnaker did enough to get 4th place while Adrian, Nick and Will sailing 3-up on a Tornado and starting another 8 minutes later did well to finish despite a broken spinnaker pole.
This was the first race that both club RS 16s were out (the first of many we hope!)
| Boat | Config | Sail no | Helm | Crew | Start relative to Dart 18 | Position |
| --- | --- | --- | --- | --- | --- | --- |
| FX One | D | 310 | Clive |   | 9 mins after | 1 |
| SL 16 | C | GBR 788 | Richard | Charlie | 6 mins after | 2 |
| Dart 18 | A | 2740 | Andy |   | reference boat | 3 |
| Hurricane 59 | B | 082 | Brian | Jennie | 11 mins after | 4 |
| Dart 18 | B | 2800 | Dave | Matt | reference boat | 5 |
| Tornado | C |   | Adrian | Nick/Will | 19 mins after | 6 |
| RS 16 | B |   | Bob |   | 1 min before | DNF |
| SL 16 | B |   | Mark | Jeanie | 1 min after | DNF |