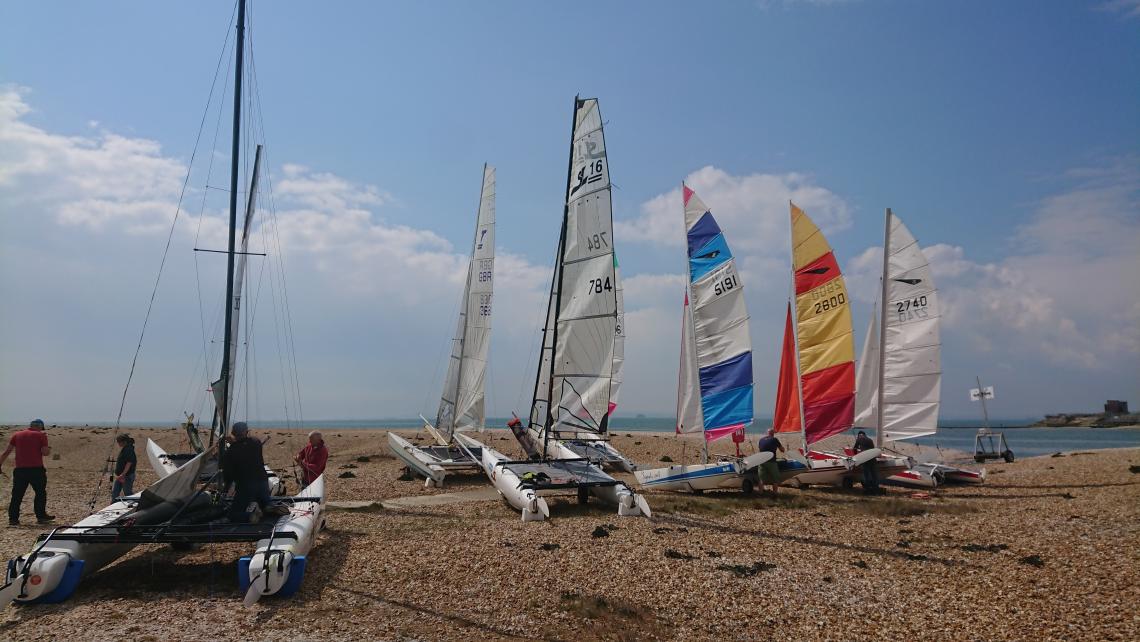 Despite a chilly and mixed forecast, an excellent turn-out for the first race of the season saw 7 boats racing including the Tornado of new members Adrian and Fen. The start time was put back until after lunch and the forecast F3 south-westerly duly arrived to provide half-decent sailing conditions. The course was set around the Fairway Pole and Inner and Outer Passages as follows:
Club Start
Outer Passage
Inner Passage
Fairway Pole
Outer Passage
Inner Passage
Fairway Pole
Club Finish
The Dart 18 of Andy and Hugh got off to a great start by keeping close to the far side of the channel to avoid the flooding tide, a lead they held almost until the Outer Passage when the Nacra Infusion of Richard and Charlie overtook and then disappeared into the distance... The marginal conditions rewarded good sailing and after some jockeying for position, Woody and Charlie assumed the lead of the Dart 18s with Matt and David catching up fast despite a broken tiller. Adrian and Fen appeared to be getting the measure of their Tornado steadily picking up the pace as the race progressed.
Richard and Charlie won most convincingly, while Clive sailing his FX One had a cracking sail to finish 2nd.
| Position | Boat | Helm / crew | Finishing Time | Code | Corrected time (s) |
| --- | --- | --- | --- | --- | --- |
| 1 | Nacra F18 Infusion | R Golden / C Howting | 14:17:56 | COM | 6435 |
| 2 | Hobie FX One | C Wright | 14:45:20 | COM | 8146 |
| 3 | Dart 18  | P Lingwood / C Lingwood | 14:59:41 | COM | 8310 |
| 4 | Dart 18 | A Chapman / H Chapman | 15:02:56 | COM | 8546 |
| 5 | Dart 18 | M Welsh / D Day | 15:04:00 | COM | 8623 |
| 6 | Tornado | A Howe / F Williams | 14:47:46 | COM | 8975 |
| - | SL16 | I Cosgrove / C Sturgess | - | DNF | - |