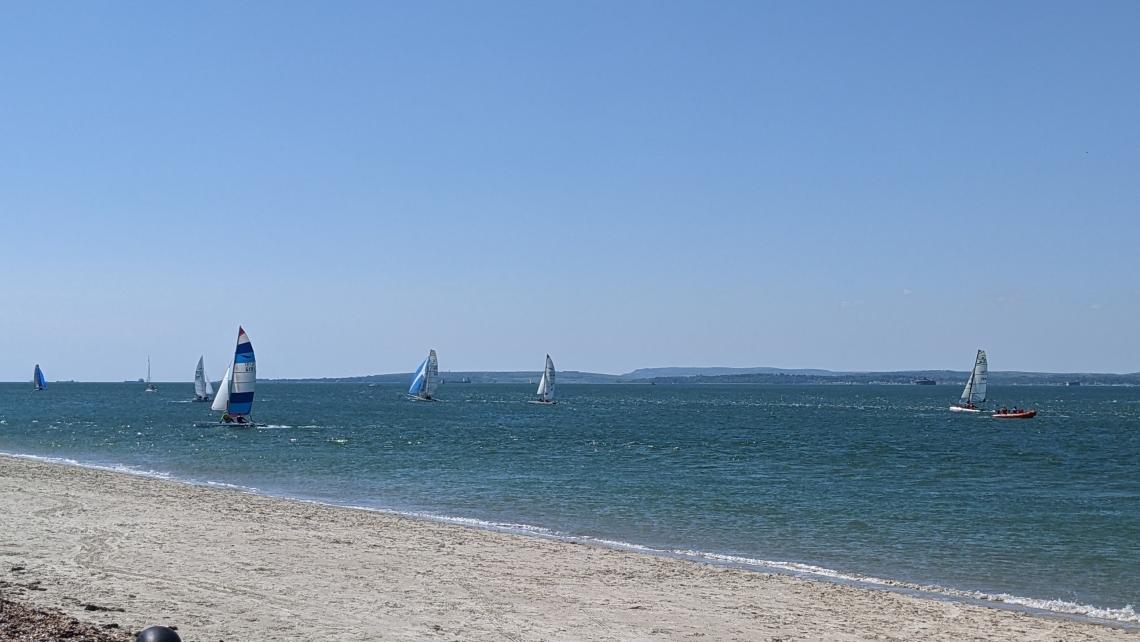 A good year for the Island Cup! A great turnout of 11 boats enjoyed a reasonably warm NE F4-5. The course was set for an anti-clockwise first leg along Hayling seafront around Fairway and West Pole and up Chichester Harbour to the bridge.
Paul and Charlie (Dart 18) got the best start but the downwind speed of the spinnaker boats helped them get to the turn around Fairway first and leave the flood tide in the channel holding the rest of the fleet back.
First to finish the first leg in just over an hour was the Tornado of Ed and Zac - despite having lost the use of a rudder and sporting a fist sized hole where their starboard pintle should have been. Incredibly they persevered and completed the 2nd leg after lunch to come 3rd.
But it was the race-proven team of Richard and Charlie (Nacra Infusion) who followed a good 1st leg with an even better 2nd leg to take 1st overall.
Of note was Robin and Dave (Dart 18) who were comfortably 1st on corrected time at the half way stage but slipped to 2nd overall.
Despite a few spills a good race was had by all and all but one boat completed the race.
Note: Finish time is based on total elapsed time and is not the actual finish time.
| Class | Config | PN | Helm | Crew | Finishing time | Elapsed time (s) | Corrected time (s) | Position |
| --- | --- | --- | --- | --- | --- | --- | --- | --- |
| Formula 18 | C-2-2T | 678 | Richard G | Charles H | 12:57:30 | 5,250 | 7,743 | 1 |
| Dart 18 | B-2-1T | 827 | Robin D | David F | 13:17:31 | 6,451 | 7,800 | 2 |
| Tornado | C-2-2T | 642 | Edward S | Zac O | 12:58:26 | 5,306 | 8,265 | 3 |
| Tornado | C-2-2T | 642 | Adrian H | Fenella W | 13:04:40 | 5,680 | 8,847 | 4 |
| Dart 18 | B-2-1T | 827 | Steve A | Jennie L | 13:32:07 | 7,327 | 8,860 | 5 |
| Dart 18 | B-2-1T | 827 | Paul L | Charlie L | 13:35:06 | 7,506 | 9,076 | 6 |
| Dart 18 | B-2-1T | 827 | Matt W | Ian C | 13:52:47 | 8,567 | 10,359 | 7 |
| Dart 16 | B-2-1T | 897 | Russell H | Wesley D | 14:27:40 | 10,660 | 11,884 | 8 |
| SL16 | C-2-2T | 771 | Kieron H | Nick R | 14:06:38 | 9,398 | 12,189 | 9 |
| Hobie FX One 1-up with jib | C-1-1T | 737 | Clive W | | 14:08:37 | 9,517 | 12,913 | 10 |
| Hobie FX One 1-up with jib | C-1-1T | 737 | Justinian T | | | 0 | 0 | DNF |