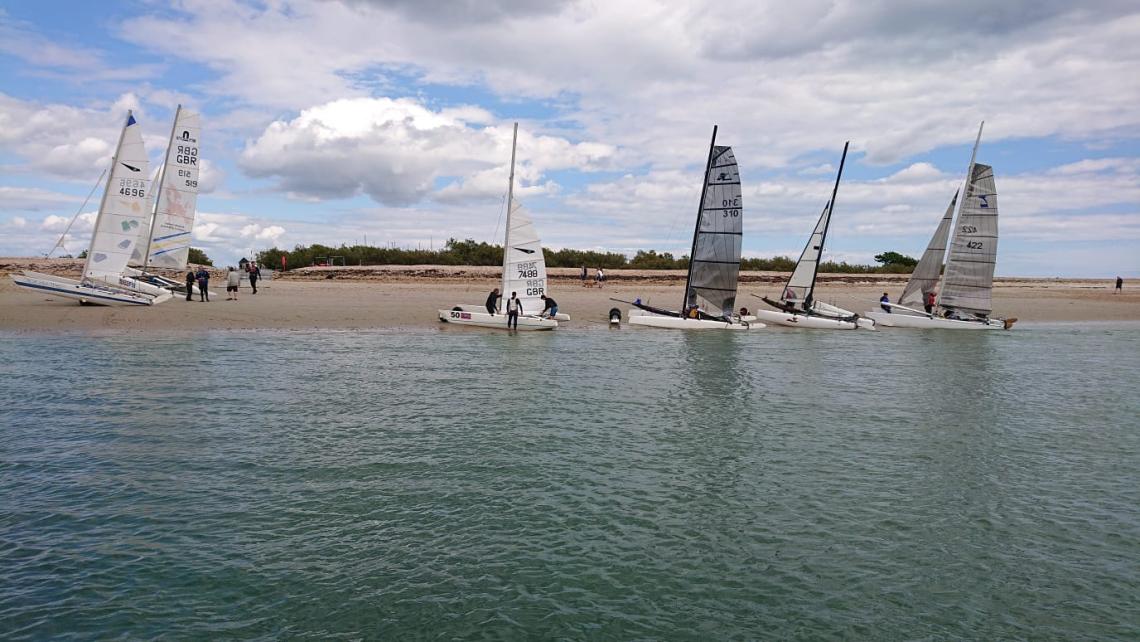 Anti-clockwise Island Cup in a shifting F2-3 NNE.
Well done to everyone taking part today and many thanks to OOD Matt, Barrie and Niels on the safety boat and Paul and Clive for doing the hard job of ferrying the trolleys to and from Langstone. Also thanks to Langstone SC for kindly allowing us to use their slipways and bar. 
1st Leg start time 11:20.
2nd Leg start time 14:40.
| Boat | Config | Sail no | Helm | Crew | Leg 1 Finish | Leg 1 Elapsed | Leg 2 Finish | Leg 2 Elapsed | Total Elapsed | Total Corrected | Position |
| --- | --- | --- | --- | --- | --- | --- | --- | --- | --- | --- | --- |
| Dart 18 | B | 4696 | Steve | Jennie | 13:20:25 | 7225 | 15:11:21 | 1881 | 9106 | 10998 | 1 |
| Dart 18  | B | 7488 | Ken | Fin | 13:19:11 | 7151 | 15:15:11 | 2111 | 9262 | 11186 | 2 |
| F18 | B | 519 | Mark | Andy | 13:05:20 | 6320 | 15:09:38 | 1778 | 8098 | 11294 | 3 |
| SL16 | C | 788 | Ed | Dave F | 13:23:40 | 7420 | 15:06:08 | 1568 | 8988 | 11612 | 4 |
| FX One | D | 310 | Clive W |   | 13:17:10 | 7030 | 15:06:18 | 1578 | 8608 | 11648 | 5 |
| Tornado | C | 422 | Adrian H | Fen/Nick | 13:40:08 | 8408 | 15:04:13 | 1453 | 9861 | 15241 | 6 |
| Dart 18 | B | 7406 | Paul | Charlie L |   |   |   |   |   |   | DNF |
| F18 | C | 1421 | Richard | Charles H |   |   |   |   |   |   | DNF |