Race report
The start was delayed until 12:30 for the sea breeze which eventually kicked in shortly after midday on the hottest day of the year so far. The first leg to Spitbank Fort saw the fleet reaching along the coast towards Portsmouth in a building breeze. The first three boats were F18s led by Simon Northrop and Josh O'Brian followed by Tim Neal and Bob Fry with Grant Piggott and Simon Farren in third.
The second leg to Nomans Land Fort saw the F18 of Nick Barnes and Stuart Smith move up to third with the first two places unchanged. With the breeze now dropping and the flow into the harbour mouth increasing the backmarkers were struggling to get out of the harbour mouth against the tide to start leg three (to East Winner Cardinal), and a couple of boats retired.
With the wind continuing to drop the Race Officer shortened the course after leg 3. The winning boat completed the three legs of the course in 3hrs 51minutes, sailing a distance (measured directly between marks) of approximately 20 nautical miles.
Summary results for the 2016 Solent Forts Race.

| Position | Sail number | Class | Helm | Crew | Club |
| --- | --- | --- | --- | --- | --- |
| 1 | GBR51 | F18 | Simon Northrop  | Josh O'Brian | Minnis Bay |
| 2 | GBR1577 | F18 | Tim Neal  | Bob Fry | Parkstone YC |
| 3 | GBR514 | F18 | Nick Barnes | Stuart Smith | Brightlingsea |
| 4 | GBR957 | F18 | Grant Piggott | Simon Farren | Weston |
| 5 | 2688 | F18 | Matt Ilston | Terry Hunt | Hayling Ferry |
| DNF | 063 | F16 | Megan Smith | David Nickalls | GWSC/Marconi |
| DNF | GBR29 | F18 | Ghislain Melaine | Max McCarroll | WYL |
| DNF | GBR519 | F18 | Andy Chapman | Mark Taylor | Hayling Ferry |
| DSQ | GBR1588 | F18 | Nathaniel Ward | Caleb Cooper | Weston |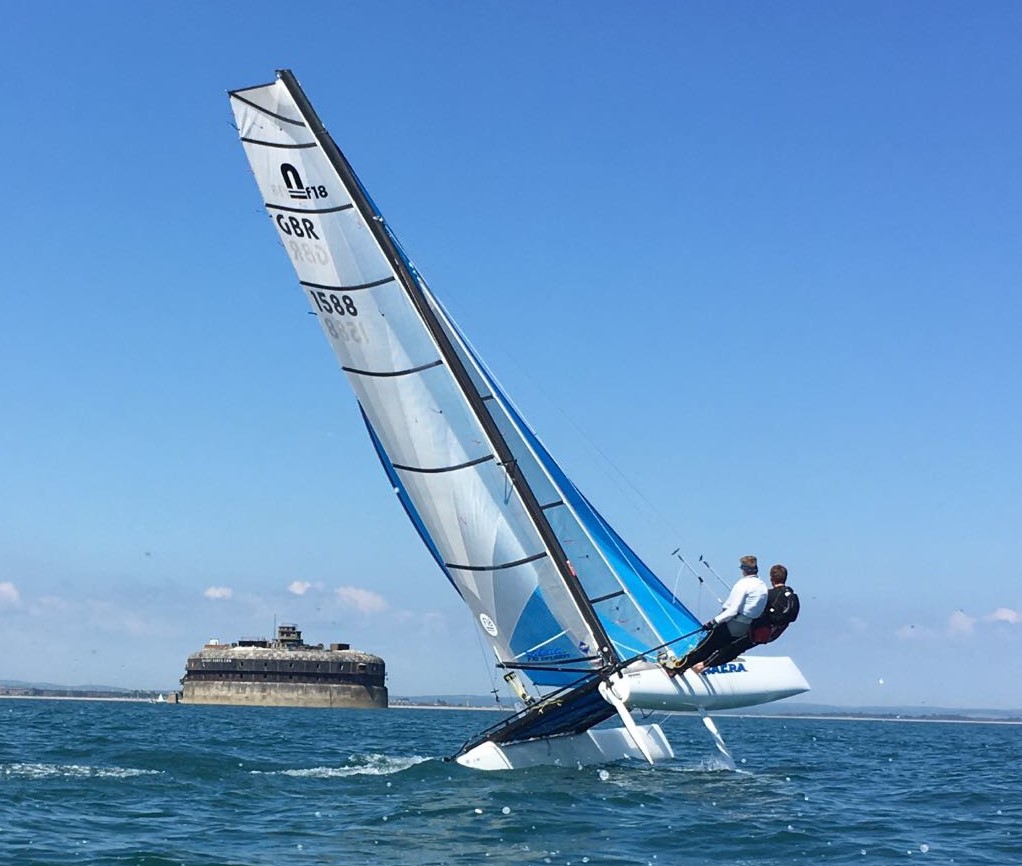 Below is the route as tracked by Matt Illston and Terry Hunt. The legs are, going anti-clockwise from the top (and in race order), Spit Sand Fort, No Man's Land Fort and Winner South Cardinal. More details available on Map My Tracks.
About this event
The Solent Forts Race is a long-distance event for sports catamarans set in the Eastern Solent, with Hayling Island and Portsmouth to the north and the Isle of Wight to the west.
Race format
The race comprises a number of legs radiating out from a gate (like a star), allowing the course configuration and length to be adjusted according to the conditions prevailing on the day (see example course diagram below). The race gets its name from the Napoleonic Channel Forts that comprise two of the marks of the course.